Hump Day Cocktailing – Don Francisco Margarita – #fitfam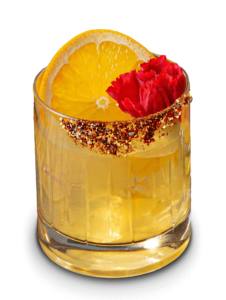 Happy Hump Day!!
The holidays are a time to enjoy with your peeps.  A fun cocktail is always welcome.  Try this sweet take on a traditional fav, the Don Francisco margarita.  It's a sweet orangy flavor filled burst of yummy from our favs at the Cocktail Project. Enjoy!
INGREDIENTS
2 parts Tequila
1 part Orange Juice
½ part Fresh Squeezed Lime Juice
¾ part Honey Syrup
Salt and Chili Powder (for rim)
Garnish: Orange Wheel, Edible Marigold
INSTRUCTIONS
Put equal parts salt and chili powder on a plate. Use an orange or lime wedge to wet the rim of the glass, and gently roll it into the salt/chili powder. Combine cocktail ingredients in an ice-filled shaker and shake until well chilled. Shake and strain into your rimmed rocks glass over fresh ice. Garnish with an orange wheel and edible marigold.
CHECKED!