YUMM! No Takeout! Korean Chicken Lettuce Wraps #fitfam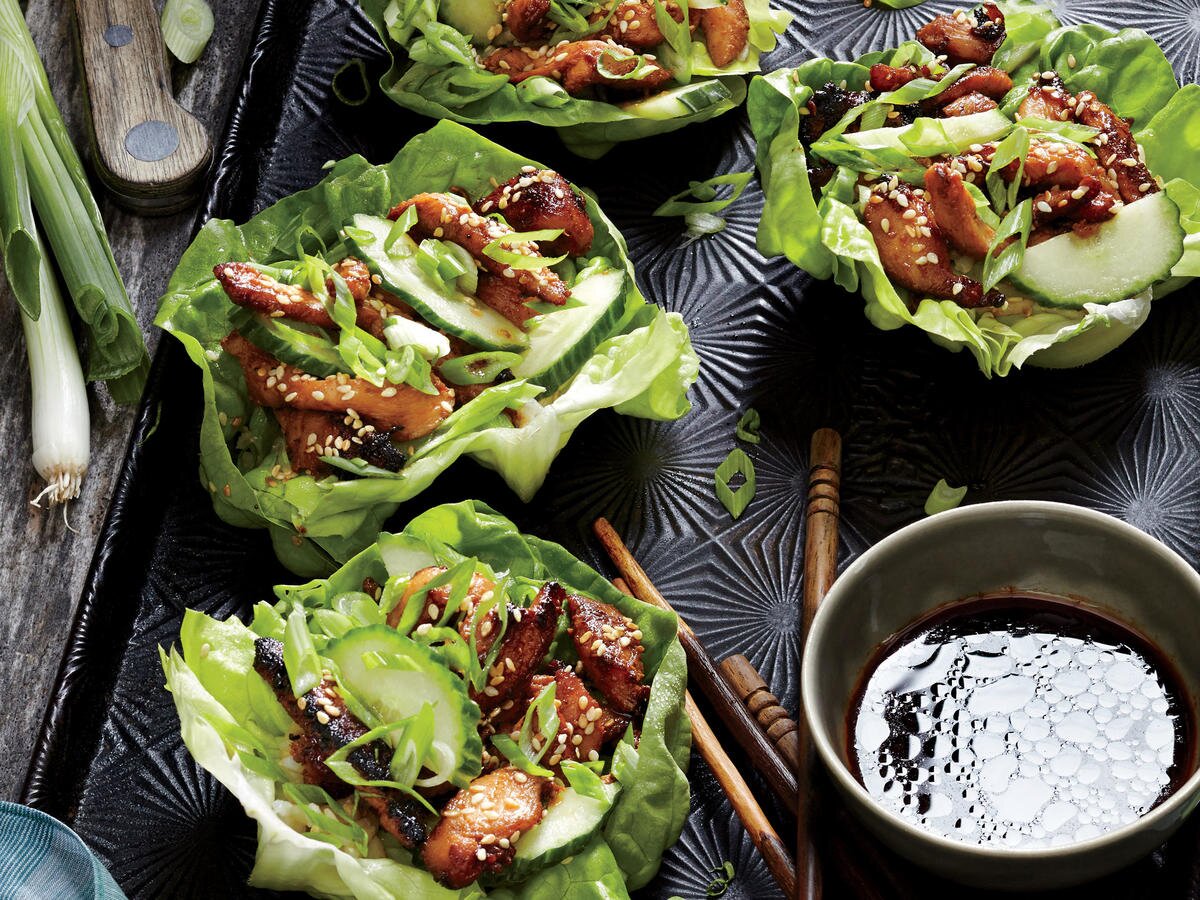 NoTakeout! Korean Chicken lettuce wraps are a cool way to pop great flavors into your chicken.  Cool and refreshing toppings make for a super crunchy lettuce wrap that will be healthier than take out!
Ingredients
2 1/2 tablespoons lower-sodium soy sauce
2 tablespoons dark brown sugar
1 1/2 tablespoons dark sesame oil
1 tablespoon gochujang sauce (such as Annie Chun's)
1 tablespoon minced fresh garlic
1/4 teaspoon black pepper
1 pound skinless, boneless chicken breast halves, thinly sliced
1 cup uncooked long-grain brown rice
2 teaspoons canola oil
1 teaspoon toasted sesame seeds
12 Bibb lettuce leaves
24 English cucumber slices
4 green onions, diagonally sliced
Preparation
Step 1
Combine first 6 ingredients in a large zip-top plastic bag. Place 2 tablespoons soy sauce mixture in a small bowl; set aside. Add chicken slices to remaining soy sauce mixture in bag; seal. Refrigerate 2 hours.
Step 2
Cook rice according to package directions.
Remove chicken from bag; discard marinade. Heat a large skillet over medium-high heat. Add oil to pan; swirl to coat. Add chicken; cook 2 minutes on each side or until done. Sprinkle sesame seeds over chicken. Place 3 tablespoons rice in each lettuce leaf; top each lettuce leaf with 1/3 cup chicken mixture, 2 cucumber slices, and about 1 1/2 teaspoons green onions. Serve with reserved 2 tablespoons soy sauce mixture.
(recipe: cookinglight.com)
Some Haute iTunes for your Cool Friday Night

CHECKED!