YUMM! No Takeout! Kale, Mushroom and Bacon Pita Pizzas #fitfam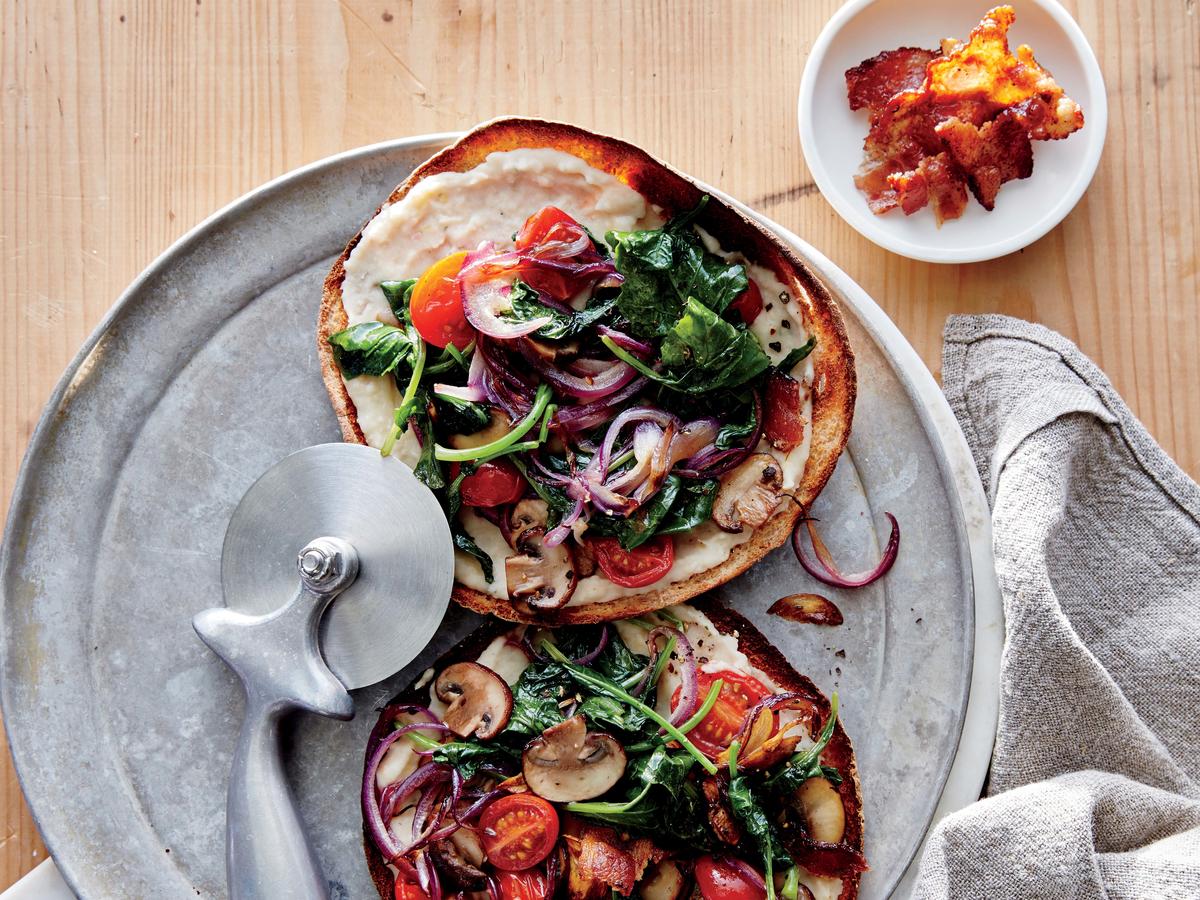 NoTakeout! I LOVE Pizza so any cool variation is right up my alley! Kale, Mushroom and Bacon Pita Pizzas are über YUMM! and can be switched up for a great vegetarian version.  Great for the kids too! Checked out so YUMM!
Ingredients
2 (6-in.) whole-wheat pitas
1 tablespoon olive oil
1 teaspoon minced fresh rosemary
1/2 teaspoon grated lemon rind
1 tablespoon fresh lemon juice
1/2 teaspoon freshly ground black pepper, divided
1/4 teaspoon kosher salt, divided
1 (15-oz.) can unsalted cannellini beans, rinsed and drained
2 center-cut bacon slices
1 cup thinly vertically sliced red onion
3 garlic cloves, thinly sliced
1 (8-oz.) pkg. presliced cremini mushrooms
1/2 cup halved grape tomatoes
4 cups baby kale
Preparation
Step 2
Split each pita in half horizontally into rounds. Arrange pita rounds on a baking sheet; broil 1 minute on each side or until toasted.
Step 3
Place oil, rosemary, rind, juice, 1/4 teaspoon pepper, 1/8 teaspoon salt, and beans in the bowl of a mini food processor; process until mixture is smooth.
Step 4
Cook bacon in a large skillet over medium-high heat about 5 minutes or until crisp. Remove bacon from pan with a slotted spoon; crumble. Add onion and garlic to drippings in pan; sauté 5 minutes. Add mushrooms; cook 4 minutes or until browned, stirring occasionally. Add tomatoes; cook 2 minutes, stirring occasionally. Add kale to pan in batches, stirring until kale wilts.
Step 5
Spread bean mixture evenly over rough side of pita halves; top evenly with kale mixture. Sprinkle with bacon, remaining 1/4 teaspoon pepper, and remaining 1/8 teaspoon salt. (recipe: myrecipes.com)
Some Haute iTunes for your Cool Friday Night
CHECKED!