Mid Week YUMM! Chicken and Garlic "Vampire" Dip! #fitfam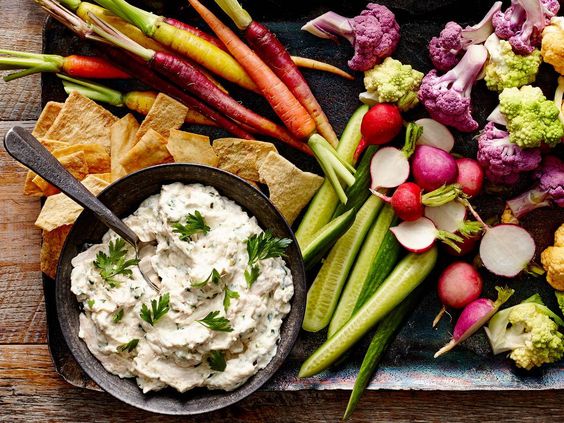 Halloween fun is coming and there is no better time to prepare for the festivities than mid-week! Creamy, cheesy, garlicky chicken dip.  A hearty dip with crisp, fresh vegetables is ideal for a #fitfam approved YUMM! party snack!
Ingredients
½ cup finely chopped yellow onion
1/3 cup canola mayonnaise
¼ cup low-fat sour cream
¼ teaspoon kosher salt
¼ teaspoon black pepper
8 ounces skinless, boneless rotisserie chicken breast, shredded (about 2 cups)
3 ounces 1/3-less-fat cream cheese
1 ounce Swiss cheese, shredded (about ¼ cup)
10 small garlic cloves, peeled and crushed
¼ cup chopped fresh flat-leaf parsley
Baked whole-grain pita chips, cucumber, carrots, radishes, and cauliflower florets
Preparation
Combine first 9 ingredients in a 2- or 3-quart electric slow cooker. Cover and cook on LOW 3 hours or until cheese is melted and mixture is bubbly. Alternately, combine first 9 ingredients in a medium saucepan with 2/3 cup water and cook 1 hour, stirring occasionally.
Stir in parsley. Serve with pita chips and vegetables. (recipe: MyRecipes.com)
Tunes for Your Halloween Party Fun:
CHECKED!