YUMM! No Takeout! Mini Chicken and Basil Meatball Hoagies #fitfam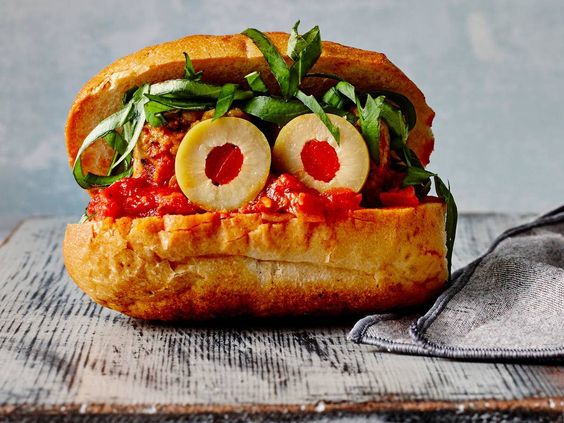 NoTakeout! Mini Chicken and Basil Meatball Hoagies are fun for the kiddies and flavor packed for the adults.  Add your fav veggie to the side and your Friday night is a lot cool and lot YUMM! Skip the takeout line and spend some quality time at home!
Ingredients
3 tablespoons olive oil, divided
2 tablespoons chopped fresh flat-leaf parsley
1 tablespoon chopped fresh basil
1/2 teaspoon black pepper
1/4 teaspoon kosher salt
12 ounces ground chicken (white and dark meat)
2 cups lower-sodium marinara sauce (such as Del 'Amore)
16 large fresh basil leaves, divided
8 (2-oz.) mini whole-wheat hoagie rolls, unsliced
4 pimiento-stuffed green olives, each cut into 4 thin slices
Preparation
Step 1
Combine 2 tablespoons oil and next 5 ingredients (through chicken) in a bowl. Divide and shape chicken mixture into 16 meatballs.
Step 2
Heat remaining 1 tablespoon oil in a large nonstick skillet over medium-high. Add meatballs; cook 8 minutes or until done, turning to brown on all sides. Remove meatballs from pan. Add marinara; cook 2 minutes or until warm.
Step 3
Lay 8 whole basil leaves on top of each other and roll up lengthwise like a cigar. Thinly slice crosswise and separate into thin ribbons. Repeat with remaining 8 basil leaves. Cut each roll in half lengthwise, cutting to, but not through the other side. Spoon marinara evenly over bottom halves of rolls; top each with 2 meatballs and about 2 tablespoons thinly sliced basil. Place an olive slice in the center of each meatball for the eyes.(recipe: cookinglight.com)
Some Summer Vibes for your Friday Night
CHECKED!