Mid Week YUMM! Roast Chicken with Balsamic Bell Peppers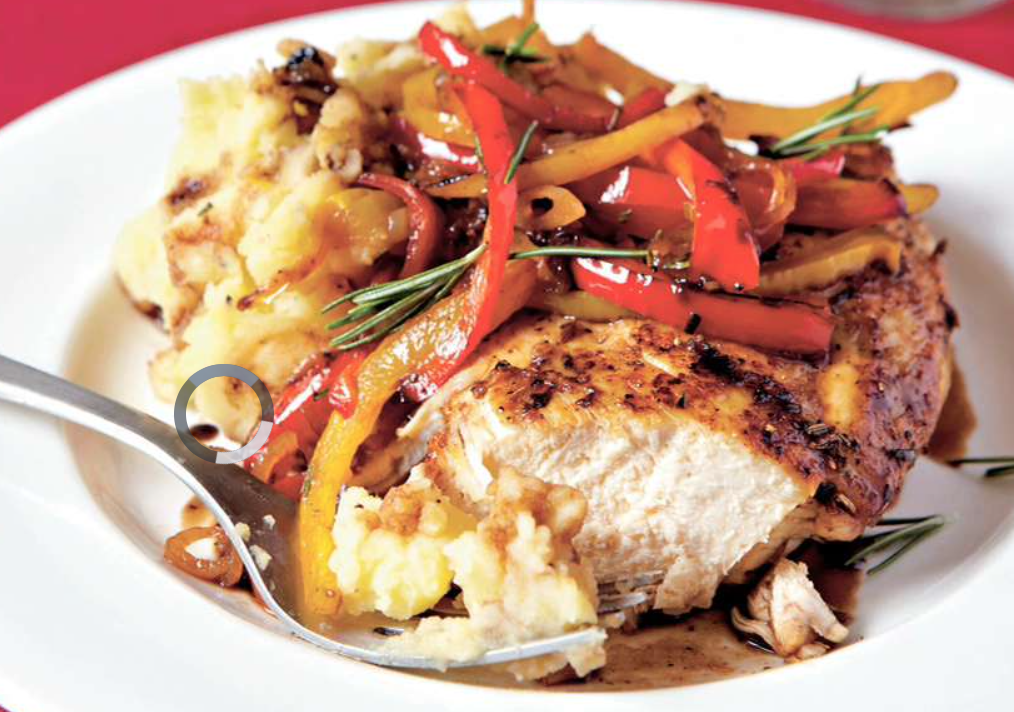 Lovely chicken with flavorful balsamic peppers are so perfect for a mid week YUMM! that will please your whole family.  This juicy chicken will go great with brown rice or steamed veggies, this meal is definitely  #fitfam approved YUMM!
Ingredients
5/8 teaspoon salt, divided
3/4 teaspoon fennel seeds, crushed
1/2 teaspoon freshly ground black pepper, divided
1/4 teaspoon garlic powder
1/4 teaspoon dried oregano
4 (6-ounce) skinless, boneless chicken breasts
2 tablespoons olive oil, divided
Cooking spray
2 cups thinly sliced red bell pepper
1 cup thinly sliced yellow bell pepper
1/2 cup thinly sliced shallots (about 1 large)
1 1/2 teaspoons chopped fresh rosemary
1 cup fat-free, less-sodium chicken broth
1 tablespoon balsamic vinegar
Preparation
Step 2
Heat a large skillet over medium-high heat. Combine 1/2 teaspoon salt, fennel seeds, 1/4 teaspoon black pepper, garlic powder, and oregano. Brush chicken with 1 1/2 teaspoons oil; sprinkle spice rub over chicken. Add 1 1/2 teaspoons oil to pan. Add chicken; cook 3 minutes or until browned. Turn chicken over; cook 1 minute. Arrange chicken in an 11 x 7–inch baking dish coated with cooking spray. Bake at 450° for 10 minutes or until done.
Step 3
Heat remaining olive oil over medium-high heat. Add bell peppers, shallots, and rosemary; sauté 3 minutes. Stir in broth, scraping pan to loosen browned bits. Reduce heat; simmer 5 minutes. Increase heat to medium-high. Stir in vinegar, 1/4 teaspoon salt, and 1/4 teaspoon pepper; cook 3 minutes, stirring frequently. Serve bell pepper mixture over chicken. (recipe: MyRecipes.com)
iTunes for Mid Week Chill:
CHECKED!