Mid Week YUMM! Chicken-Udon Soup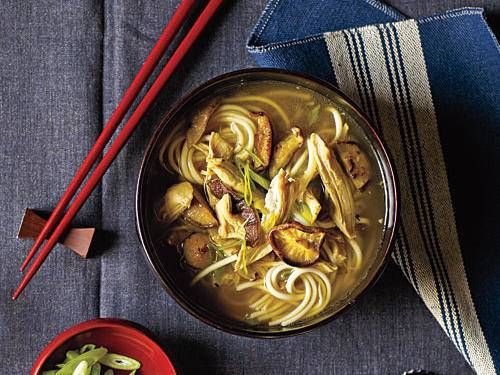 Mid Week is for a fresh YUMM! We're talking delicious thick Japanese udon noodles bathing in rich chicken broth surrounded by meaty shiitake mushrooms.  This soup is light enough for a Summer Mid Week YUMM but hearty enough to fill your tummy.
Ingredients
1 (3 1/2-ounce) package fresh shiitake mushrooms
4 cups Chicken Stock or fat-free, lower-sodium chicken broth
6 (1/4-inch) slices peeled fresh ginger
3 garlic cloves, crushed
1 green onion, cut into 2-inch pieces
1 star anise
6 ounces dried udon noodles (thick Japanese wheat noodles)
1 tablespoon canola oil
2 teaspoons minced peeled fresh ginger
1 garlic clove, minced
1/4 cup sake (rice wine) or sherry or dry white wine
2 cups shredded cooked chicken breast (about 8 ounces)
1 tablespoon lower-sodium soy sauce
1 tablespoon honey
1/4 teaspoon kosher salt
1/4 cup diagonally cut green onions
Preparation
Step 1
Remove stems from mushrooms; reserve stems. Thinly slice mushroom caps; set aside. Combine mushroom stems, Chicken Stock, and next 4 ingredients (through star anise) in a large saucepan. Bring to a boil. Cover, reduce heat, and simmer 20 minutes. Remove from heat. Let stand 10 minutes. Strain stock through a sieve over a bowl; discard solids.
Step 2
Cook udon noodles according to package directions, omitting salt and fat. Drain and rinse with cold water; drain well.
Step 3
Heat a large saucepan over medium-high heat. Add canola oil to pan; swirl to coat. Add reserved sliced mushroom caps to pan, and sauté for 2 minutes. Add minced ginger and minced garlic; sauté for 1 minute. Add sake, and cook for 4 minutes, scraping pan to loosen browned bits. Add stock to pan. Bring to a boil, and reduce heat to medium-low. Add chicken, soy sauce, 1 tablespoon honey, and salt; simmer for 2 minutes or until chicken is thoroughly heated. Divide noodles evenly among 4 bowls. Add 1 1/2 cups soup to each bowl. Sprinkle each serving with 1 tablespoon green onions. (recipe: MyRecipes.com)
iTunes for Mid Week chill:
CHECKED!